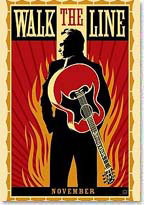 In 1968, an audience of inmates at Folsom State Prison cheer for Johnny Cash's (Joaquin Phoenix) band as he waits backstage near a table saw, reminding him of his early life. In 1944, Johnny (Ridge Canipe), then known as J.R., grows up the son of a share cropper on a cotton farm in Dyess, Arkansas, and is adept with hymnals, while his brother Jack (Lucas Till) is training himself to become a pastor. While Jack is sawing wood for a neighbor, J.R. goes fishing while he finishes. However, Jack injures himself with the saw, and dies of his injuries.
Cash's strained relationship with his father Ray (Robert Patrick), becomes much more difficult after Jack's death. In 1950, J.R. enlists in the United States Air Force as Johnny Cash, and is posted in West Germany. One day in 1952, he finds solace in playing a guitar he bought and writing songs—one of which will become "Folsom Prison Blues." Cash is eventually discharged, and marries his girlfriend Vivian Liberto (Ginnifer Goodwin).
The couple move to Memphis, Tennessee, where Cash works as a door-to-door salesman to support his growing family. He walks past a recording studio, which inspires him to organize a band to play gospel music. Cash's band auditions for Sam Phillips (Dallas Roberts), the owner of Sun Records.
Phillips interrupts the audition and asks Cash to play a song that he really feels, prompting them to play Folsom Prison Blues. The band is contracted by Sun Records. The band begins touring as Johnny Cash and the Tennessee Two. He meets many different artists on tour, including June Carter (Reese Witherspoon), with whom Cash soon falls in love.
Joaquin Phoenix and Reese Witherspoon are phenomenal as Johnny and June Carter Cash. This unlikely casting yields such outstanding results that I would hand them both the Oscar right now if I could. I read that Reese almost bailed on the project when she found out she had to do her own singing, but you would never know it from the great vocals and spunky performances she delivers.
The film focuses on their love affair, first as friends and then torrid even while he was married to his first wife and the mother of his children. His drug abuse is highlighted but it is Johnny Cash, the complex man and his love for June Carter, darling daughter of the close-knit and totally supportive Carter clan, that comes shining through and makes this a totally enjoyable movie.
Director: James Mangold
Year of Release: 2005

Character to watch:  Reese Witherspoon as June Carter
Journal your answers to the following questions after you watch the movie.
How does this particular character's journey compare with yours?
Did the character develop certain characteristics during the movie that you have or that you would like to have? If so, what are those characteristics?
What obstacles did this character face? What was his or her biggest challenge?
What would you have done differently if you had been in the same position as the character?
Is this character the type of person you would be friends with? Why or why not?