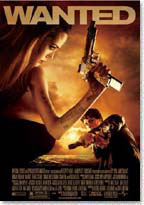 Wesley Gibson (James McAvoy) lives in Chicago and works at a dead-end desk job with an overbearing boss (Lorna Scott), takes anti-anxiety medication for panic attacks, and has a live-in girlfriend (Kristen Hager) who cheats on him with his best friend Barry (Chris Pratt). One night in the pharmacy, Wesley is told by a mysterious woman named Fox (Angelina Jolie) that his father was a recently murdered assassin, and the killer, Cross, is after him.
Cross and Fox engage in a shoot-out followed by a car chase in the streets of Chicago. Wesley manages to escape and Fox has a shoot-out again with Cross, causing a car accident that knocks Wesley unconscious. Fox brings Wesley to the headquarters of The Fraternity, a thousand-year-old secret society of assassins.
The group's current leader, Sloan (Morgan Freeman), explains that Wesley's panic attacks are actually the untrained expression of a rare superhuman ability; when stressed, the drastically increased heart rate and adrenaline levels result in bursts of superhuman strength, speed, and reflexes. He  demonstrates this when he successfully shoots the wings off of three flies.
The Fraternity can teach him to control this ability, so Wesley can follow in his father's footsteps as an assassin, beginning by inheriting his fortune. Wesley is initially reluctant and returns to work, only to finally snap when discovering several million dollars in his bank account. He excoriates his boss in front of the entire office, and on his way out, smashes Barry in the face with a computer keyboard. Fox is waiting outside to take him back to the Fraternity headquarters, an unassuming textile mill.
Wesley is then subjected to brutal training; among other forms of combat, he learns to fire bullets to curve around objects. Afterward, Wesley is shown the Loom of Fate, a loom that gives the names of the targets through binary code hidden in weaving errors of the fabric.
Those the Loom identifies will apparently cause tragedy in the future; but only Sloan sees and interprets the names fate wishes to see dead. Wesley is initially reluctant about killing people. Then Fox reveals that in her childhood, a hired assassin burned her father alive in front of her and said hitman was supposed to be killed by the Fraternity before that, but the assassin failed to pull the trigger.
Director: Timur Bekmambetov
Year of Release: 2008

Character to watch: James McAvoy as Wesley Allan Gibson
Journal your answers to the following questions after you watch the movie.
How does this particular character's journey compare with yours?
Did the character develop certain characteristics during the movie that you have or that you would like to have? If so, what are those characteristics?
What obstacles did this character face? What was his or her biggest challenge?
What would you have done differently if you had been in the same position as the character?
Is this character the type of person you would be friends with? Why or why not?