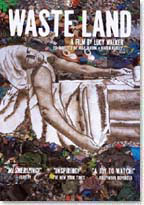 Filmed over nearly three years, Waste Land follows renowned artist Vik Muniz as he journeys from his home base in Brooklyn to his native Brazil and the world's largest garbage dump, Jardim Gramacho, located on the outskirts of Rio de Janeiro. There he photographs an eclectic band of "catadores" or self-designated pickers of recyclable materials. Muniz's initial objective was to "paint" the catadores with garbage.
His collaboration with these inspiring characters as they recreate photographic images of themselves out of garbage reveals both dignity and despair as the catadores begin to re-imagine their lives. Walker (Devil's Playground, Blindsight) has great access to the entire process and, in the end, offers stirring evidence of the transformative power of art and the alchemy of the human spirit.
Contemporary artist Vik Muniz is the featured lead in the film. Expanding his portfolio of intriguing art made from non-conventional material, Muniz embarks on a massive project in his native country Brazil. Going to Rio de Janeiro's largest garbage dump, he wants to utilize the natural resources there to make portraits of individual workers.
A huge collaborative undertaking (the film spans almost three years), he gets the cooperation of the local union and enlists a select team of assistants for the project. He oversees the art, but the locals are its stars as well as the ones who assemble the actual final product. In doing so, they start to envision a world outside the daily confines of the dump. Walker begins with Muniz as the centerpiece for the story, but the movie evolves into a real character piece about those locals enlisted in the project.
Director: Lucy Walker
Year of Release: 2010

Character to watch: Vik Muniz as Himself.
Journal your answers to the following questions after you watch the movie.
How does this particular character's journey compare with yours?
Did the character develop certain characteristics during the movie that you have or that you would like to have? If so, what are those characteristics?
What obstacles did this character face? What was his or her biggest challenge?
What would you have done differently if you had been in the same position as the character?
Is this character the type of person you would be friends with? Why or why not?