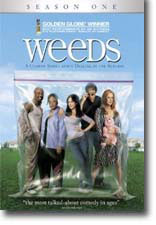 With its fantastic comedy series Weeds, cable network Showtime finally gave up its also-ran status to HBO and found itself with a controversial, buzz-worthy show that was as hilarious as it was dark. A recent widow with two growing sons, Nancy Botwin (Mary-Louise Parker) looks like a typical resident of the affluent Southern California suburb of Agrestic.She keeps a clean, upscale house (with the help of a live-in maid), attends PTA meetings, goes to her kids' soccer games, makes frequent stops at the local coffee franchise…. and sells marijuana in order to make it all possible.
Left with no way to support herself after her beloved husband's fatal heart attack, Nancy turns herself into the "suburban baroness of bud," dealing to her neighbors in the area, with the help of her supplier Heylia (Tonye Patano) and point man Conrad (Romany Malco).
Nancy's clients run from the local councilman (Kevin Nealon) to the just-barely-legal students at the local community college, but many in Agrestic are still in the dark as to how she keeps her family afloat, including her best friend, the sardonic Celia (Elizabeth Perkins), a wife and mother whose blistering, withering put-downs could make Dorothy Parker cringe in fear.
Like many small-business owners, Nancy yearns for more success and cash, and like her workaholic neighbors, finds keeping a balance between work life and home life to be extremely precarious at best. Weeds was the real deal, skewering upper-middle class mores with a sharp eye, a keen wit, and a mostly forgiving heart.
In episode after episode, the show's creative team (led by creator Jenji Kohan) pulled back the layers of Agrestic's superficiality to show what lies beneath the squeaky-clean exteriors and smiling faces; it turns out that hunger, fear, desire, and, yes, desperation aren't that far down.
However, Weeds forsakes pulpiness and florid drama for biting yet affectionate humor–its heroine is a woman with sliding morals, but one you'll root for to the very end. The effervescent Parker, the only actress who can mix perkiness with morbidity in just the right amounts, anchored the show with her amazing turn as Nancy, who by the end of the first season had become a kind of soccer-mom version of Michael Corleone, entering a corrupt world with both trepidation and fascination–and totally enamored of the power it brought her.
Also perfectly cast, Perkins found the role of a lifetime as the bitterly hilarious Celia, and entering the show in its fourth episode, Justin Kirk (Parker's co-star in Angels in America) proved to be a potent secret weapon as Nancy's brother-in-law Andy, a slacker who wasn't above peddling t-shirts to elementary school kids. As icky as these characters might appear on the surface, Weeds made them all immensely appealing and great company to be around.
Don't say I didn't warn you: one hit and you'll be hooked on this show. The DVDs feature six episode commentaries with cast and crew, outtakes, original featurettes, a music video, and most enjoyably, Agrestic Herbal Recipes (for entertainment value only, I assume) and the "Smoke and Mirrors" marijuana mockumentary.

Character to watch: Mary-Louise Parker as Nancy Botwin.
Journal your answers to the following questions after you watch the series.
How does this particular character's journey compare with yours?
Did the character develop certain characteristics during the movie that you have or that you would like to have? If so, what are those characteristics?
What obstacles did this character face? What was his or her biggest challenge?
What would you have done differently if you had been in the same position as the character?
Is this character the type of person you would be friends with? Why or why not?