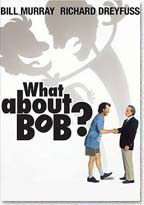 Bob Wiley (Bill Murray) is a good-natured man who suffers from multiple phobias. He feels good about the results of an initial session with Dr. Leo Marvin (Richard Dreyfuss), a New York psychiatrist with a huge ego, but is immediately left on his own with a copy of Leo's new book, Baby Steps, when the doctor goes on vacation to Lake Winnipesaukee, New Hampshire.
Unable to cope, Bob follows Leo to his vacation home, where Leo is annoyed because he doesn't see patients on vacation but seeing how desperate Bob is gives him a prescription telling him to take a vacation from his problems.
Bob seems to have made a breakthrough, but the next morning shows up and says that he decided to take a vacation as well and that his stay in town is facilitated by the Guttmans (Tom Aldredge and Susan Willis), a couple who hold a grudge against Leo because he purchased the home they had been saving to buy.
Bob suggests that they start a friendship, although Leo thinks being friends with a patient is beneath him and attempts to avoid any further contact, but Bob gets along fine with the rest of Leo's family and continues to socialize with them. Leo's children Anna (Kathryn Erbe) and Sigmund (Charlie Korsmo) find that Bob relates well to their problems, in contrast with their father's clinical approach, while Bob begins to gain an enjoyment of life from his association with them.
Bob goes sailing with Anna and helps Sigmund to dive into the lake, which Leo was unable to help him with. Leo then angrily pushes Bob into the lake and Leo's wife, Fay (Julie Hagerty), insists on inviting Bob to dinner to apologize—although Bob thinks Leo's slights against him have been accidental.
Director: Frank Oz
Tear of Release 1991

Character to watch: Bill Murray as Bob Wiley.
Journal your answers to the following questions after you watch the movie.
How does this particular character's journey compare with yours?
Did the character develop certain characteristics during the movie that you have or that you would like to have? If so, what are those characteristics?
What obstacles did this character face? What was his or her biggest challenge?
What would you have done differently if you had been in the same position as the character?
Is this character the type of person you would be friends with? Why or why not?