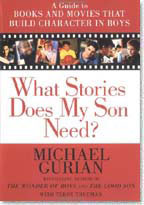 Psychotherapist and father Gurian is the author of several previous books on parenting sons (A Fine Young Man and The Wonder of Boys). in What Stories Does My Son Need? A Guide to Books and Movies that Build Character in Boys, he focuses on the role stories and movies play in shaping boys' character and in teaching moral lessons.
After an introductory chapter about the need for stories and movies, Gurian identifies and summarizes 100 movies and 100 books and suggests questions for parents to ask when discussing these books and movies with their sons.
The listings are arranged according to the age at which Gurian believes they are appropriate: preschool, lower elementary, upper elementary, middle school, and high school. The list, of course, is not inclusive, and most of the selections would also suit daughters. Parents and others who work with children can use this as a selection tool and as a model for choosing other titles not included. Recommended for public and college libraries.
About the Author: Michael Gurian is a psychotherapist and bestselling author whose books include The Wonder of Boys and The Good Son. His work reflects the diverse cultures (European, Asian, Middle Eastern, and American) in which he lived, worked, and studied. He has taught psychology, religion, mythology, and literature at three American universities and at Ankara University in Turkey. He lives with his wife and two children in Spokane, Washington.
Author: Michael Gurian
Year of Release: 2000