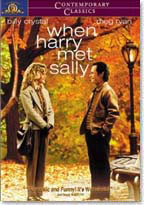 Harry (Billy Crystal) and Sally (Med Ryan) meet when she gives him a ride to New York after they both graduate from the University of Chicago. The film jumps through their lives as they both search for love, bumping into each other over and over again. Over time, they become best friends.
At a New Year's Eve party, Harry and Sally find themselves attracted to each other. They try to set each other up with their best friends, Marie (Carrie Fisher) and Jess (Bruno Kirby). The four go to a restaurant, where Marie and Jesse hit it off and leave together. Soon, Marie and Jesse are engaged.
One night, Sally calls Harry and tearfully tells him that her ex is getting married. Harry rushes over to her apartment to comfort her, and they end up having sex that night. Harry quickly leaves the next morning. This upsets Sally and their friendship cools for several weeks. At a New Year's Eve party later that year, Sally is alone with Marie and Jesse when Harry appears and declares his love for her.
The thing is that its not just a genuinely and consistently funny movie, it's also terribly romantic. It spans about 12years in the lives of both Harry and Sally, from their first meeting at college. They grow and change, they like and dislike each other, they become romantically involved and then they don't.
The whole thing is very engrossing and witty but never seems far fetched or fantastical. I rate this movie as a contender for cinema's best romantic comedy. Enjoy the dialogue, the charm, the music, the drama and melodrama and give praise to Rob Riener and his great team who made a wonderful film.
Director: Rob Reiner
Year of Release: 1989

Character to watch:  Billy Crystal as Harry Burns.
Journal your answers to the following questions after you watch the movie.
How does this particular character's journey compare with yours?
Did the character develop certain characteristics during the movie that you have or that you would like to have? If so, what are those characteristics?
What obstacles did this character face? What was his or her biggest challenge?
What would you have done differently if you had been in the same position as the character?
Is this character the type of person you would be friends with? Why or why not?