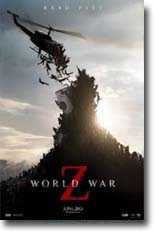 In World War Z, United Nations employee Gerry Lane (Brad Pitt) traverses the world in a race against time to stop the Zombie pandemic that is toppling armies and governments, and threatening to destroy humanity itself.When the movie opens, Lane and his wife Karin (Mireille Enos), and his children Constance (Sterling Jerins) and Rachel (Abigail Hargrove) are sitting in heavy traffic in Philadelphia while the radio reports on a rabies outbreak that has spread internationally.
They are attacked by masses of zombies, and they watch as those bitten become zombies as well. The Lanes narrowly escape and flee to an apartment complex to be extracted by a helicopter sent by Gerry's former UN colleague, Thierry (Fana Mokoena).
The family reaches the helicopter and are taken to a US Navy ship off the coast of New York, where a team of analysts and military personnel are analyzing the scope of the worldwide outbreak. A virologist, Andrew Fassbach (Elyes Gabel), argues that the plague is a virus, whose origin must be found in order for a vaccine to be developed. The naval commander tells Gerry that, because of his expertise as a former UN investigator, he is to go with a team of Navy SEALs to find the source of the outbreak. Reluctantly agreeing for the sake of his family's staying on the ship, Gerry leaves.
Throughout the film, Lane fights the zombies while attempting to find a "cure" for the plague. Lane is in every scene, but around him are a rapidly-changing collection of characters who join only for sections of the narrative. However by canny international casting characters who often have mere minutes of screen time register memorably.
Where the film really scores is that despite the fact that it is a "zombie" movie and unusually one where the reason characters use that term is because they have seen zombie movies, the environments and human characters feel real and convincing. The action has a gritty feel while never being less than spectacular. While the threat is fantastical, World War Z takes place in a convincing world, in this case a distinctly post 9/11 one. One sequence in particular is sure to inspire debate over the presence or not of a geo-political subtext.
World War Z is also often very frightening; despite the lack of gore, this is an extremely intense film and one which parents should be very careful about bringing children to. It has received a PG-13 but is not really a movie for under-12s, and if you take them, prepare for some sleepless nights.
Director:  Marc Forster
Year of Release: 2013

Character to watch: Brad Pitt as Gerry Lane.
Journal your answers to the following questions after you watch the movie.
How does this particular character's journey compare with yours?
Did the character develop certain characteristics during the movie that you have or that you would like to have? If so, what are those characteristics?
What obstacles did this character face? What was his or her biggest challenge?
What would you have done differently if you had been in the same position as the character?
Is this character the type of person you would be friends with? Why or why not?