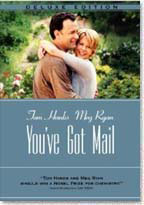 Kathleen Kelly (Meg Ryan) is involved with Frank Navasky (Greg Kinnear), a leftist postmodernist newspaper writer for the New York Observer who's always in search of an opportunity to root for the underdog. While Frank is devoted to his typewriter, Kathleen prefers her laptop and logging into her AOL e-mail account. There, using the screen name 'Shopgirl', she reads an e-mail from "NY152", the screen name of Joe Fox (Tom Hanks).
In her reading of the e-mail, she reveals the boundaries of the online relationship; no specifics, including no names, career or class information, or family connections. Joe belongs to the Fox family which runs Fox Books — a chain of "mega" bookstores similar to Borders or Barnes & Noble. Kathleen, on the other hand, runs the independent bookstore The Shop Around The Corner that her mother ran before her.
The two then pass each other on their respective ways to work, where it is revealed that they frequent the same neighborhoods in upper west Manhattan. Joe arrives at work, overseeing the opening of a new Fox Books in New York with the help of his friend, branch manager Kevin (Dave Chappelle). Meanwhile, Kathleen and her three store assistants, George (Steve Zahn), Birdie (Jean Stapleton), and Christina (Heather Burns) open up shop for the day.
Here's the main and completely irrelevant reason to love this movie: New York City in the fall. Honestly, it should have no bearing whatsoever on the plot, but it does — and it's impossible not to fall in love with the bright, sunshiny, orange-leaved sheer beauty of the city encapsulated in this movie.
Without even resorting to shots of Central Park in all its glory (and really, who can resist that?), "You've Got Mail" takes you on a lovely scenic tour of the Upper West Side, Starbucks and all. Who can resist the street fairs, the parks, the stores, the dock? It's picture-perfect, and if it's a bit surreal, I won't admit it: New York really is rather lovely in the fall.
Director: Nora Ephron
Year of Release: 1998

Character to watch: Meg Ryan as Kathleen Kelly.
Journal your answers to the following questions after you watch the movie.
How does this particular character's journey compare with yours?
Did the character develop certain characteristics during the movie that you have or that you would like to have? If so, what are those characteristics?
What obstacles did this character face? What was his or her biggest challenge?
What would you have done differently if you had been in the same position as the character?
Is this character the type of person you would be friends with? Why or why not?